LITTLE FOLLIES
A Novel in Nine Novellas
by
ERIC KRAFT
---
"It generates its own reality, and it's profoundly funny."
David Chute, The Los Angeles Times
---
Cover Image: Claude Monet, The Harbor at Trouville (detail, 1870)
---
"I envy the lucky souls who are meeting Peter Leroy for the first time."
Armistead Maupin, author of Tales of the City
---
Memoirist Peter Leroy explores one of his earliest memories, his mother's tumble from her lawn chair; probes the root causes of his childhood pelecypodophobia (fear of bivalve mollusks, particularly clams); navigates the upper reaches of the Bolotomy River; builds a radio receiver and explores the farthest reaches of the galaxy; ponders the differences between dour foxes and happy clams; falls in love with the girl with the white fur muff; learns the pleasures of skating on ice and taking the long way home; becomes a fan of the Larry Peters Adventure series; and rises to the rank of Aluminum Commodore in the Young Tars. 
---
"Tiny and enormous, full of mystery and wonder."
Robert Plunkett, The New York Times Book Review
---
 
A Preview
(from the first novella, "My Mother Takes a Tumble")
In this preview, Dudley Beaker, next-door neighbor to Peter's grandparents, places lonely-hearts ads in the local paper and signs them "Mary Strong." A loony and increasingly erotic correspondence ensues with a woman who signs her letters "John Simpson."
---
"Wonderfully touching and mythic."
John Stark Bellamy II, Cleveland Plain Dealer
---
One of Dudley Beaker's advertisements for the Babbington Clam Council.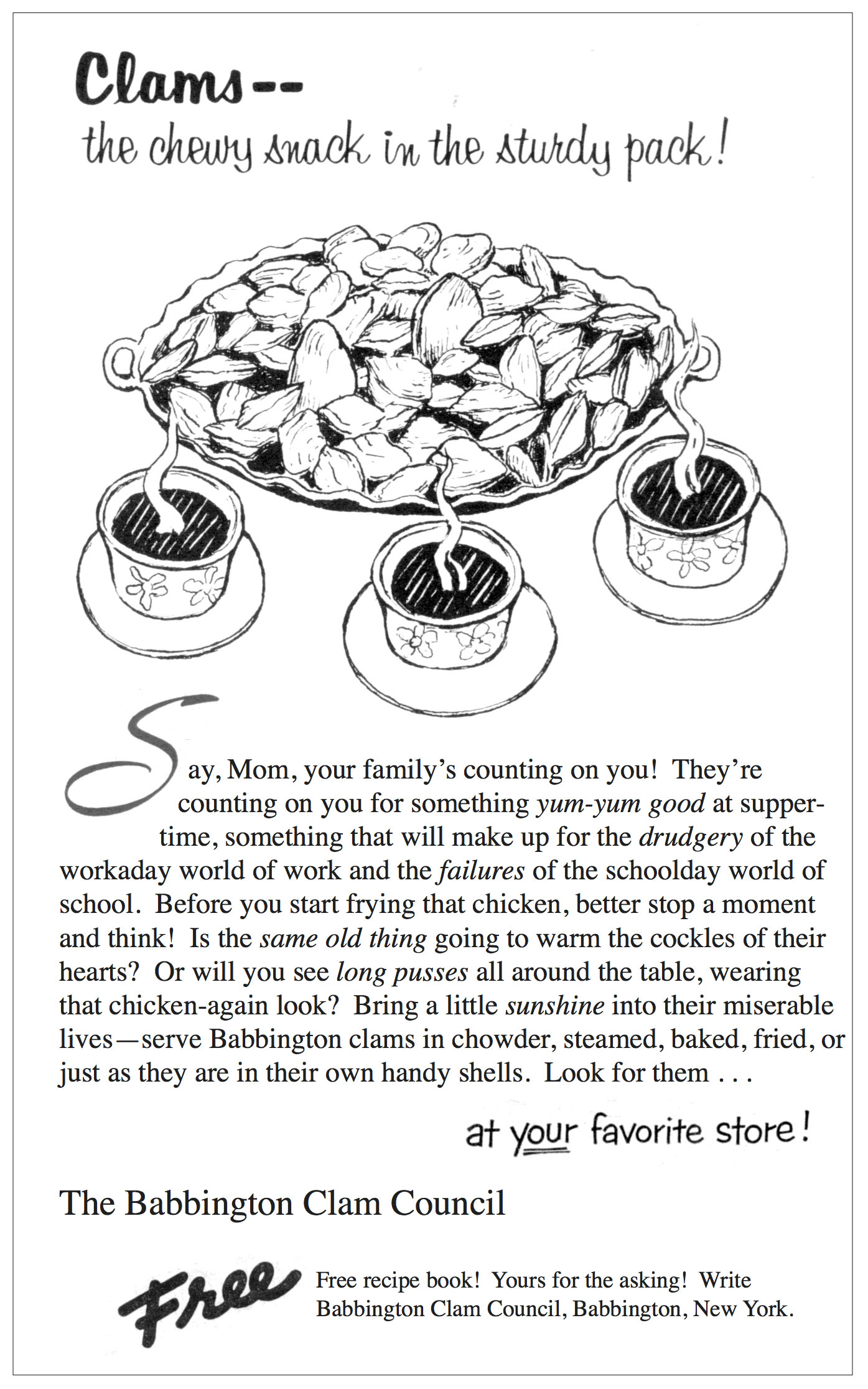 ---
"Strikingly new."
Walter Kendrick, The Village Voice
---
---
"Wonderfully different from most literary efforts."
Mark Muro, The Boston Globe
---

---
"Mystery, tragedy, jealousy, love, wisdom, irony, wonder."
James Idema, Chicago Tribune
---

---
"An ingenious investigation of the way we build our myths."
Julie Salamon The Wall Street Journal
---
(As an Amazon Associate I earn from qualifying purchases.)
---
"Clever, anecdotal, suspenseful, and funny."
Anna Shapiro, The New Yorker
---
Read complete reviews.
---
"A triumph."
Robert Crampton, The Times (London)
---